United Pride Dairy is a 22 year partnership between two neighboring families,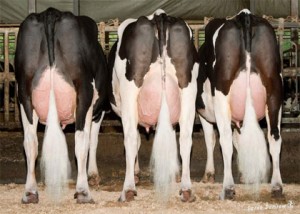 the Peskos and Jasurdas. The farms were joined in 1996 to create one larger farm, commonly referred to as "UPD".  Both families have been farming in Phillips, Wisconsin for 107 years.  In 2014 UPD expanded ownership to the son and son-in-law of Jon, Jeremy Pesko and Bill Harper.  Ed Jasurda handles herd health and genetics, Jon Pesko manages employees, crop production and business planning and management, Jeremy Pesko is the crop and maintenance manager, and Bill Harper manages the milk hauling, calf-raising and is the technical supervisor. 
The leadership team works together to ensure the cows are well cared for and the operation runs smoothly. In 2010, UPD built a 60-stall rotary parlor and a 1200 stall cross-ventilated barn to help manage the growing herd and the changes in technology. The parlor complex includes a conference room, offices, and observation area. In 2017 an automated calf barn was built as well as an addition on the shop area.  There are two additional farms owned by UPD within 5 miles of the main dairy which houses heifers and bulls.
The herd is primarily Holstein, with some Jerseys, Guernseys, and cross breeds.   The milk is transported by UPD to a Foremost processing plant in Milan, WI, about 60 miles south of Phillips.
Click here to read a feature article from the Price County Review highlighting the 20 year partnership of United Pride Dairy!
Click here to view photos from the Price County Review from the annual 4th grade tours of United Pride Dairy!
For the safety of our animals, employees, and visitors, tours are by appointment only!